Tripwire Integrations

System State Intelligence Enriches Your Security Ecosystem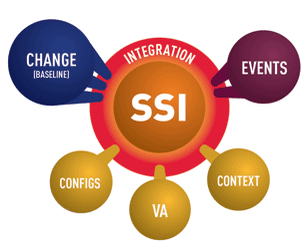 Integrating change and event data provides the foundation of System State Intelligence
Overview:
Tripwire takes an approach to IT security that's different. We don't just collect and store reams of security data. We combine data from multiple security controls and apply built-in intelligence to it, so we're able to provide you greater insight into the state of your infrastructure. And when those insights are integrated into by linking our system state intelligence into your existing processes and technology, your valuable systems and data gain a superior level of protection.
Change Management
Systems like BMC Remedy, ServiceNow and other ITIL-based change management tools can integrate with Tripwire solutions to detect and control all changes. Tripwire® Enterprise integrates with your change ticketing systems to automate the reconciliation of detected changes, and also validate that planned changes have taken place.
Security Information and Event Management (SIEM)
Tripwire Enterprise users can integrate its industry-leading change and configuration data and business-driven tag information into the correlation engine of SIEM platforms such as Tripwire Log Center®, ArcSight ESM or RSA enVision. This integration provides a new, critical security perspective to the SIEM engine—providing the complete intelligence required to detect a coordinated attack, along with business-focused data points for triggering security alerts.
Asset Management
Tripwire VIA™ Asset View provides a non-hierarchical, dynamic IT asset management tagging structure, providing users with a superb user experience and a more usable, flexible, and business-reflective interface. Tripwire's tag integration framework enables you to apply critical insights into your assets by capturing asset metadata from CMDBs, asset management systems or spreadsheets to enrich tag properties.